A new form of collaboration in which participants share their data and their data capabilities to create collective impact.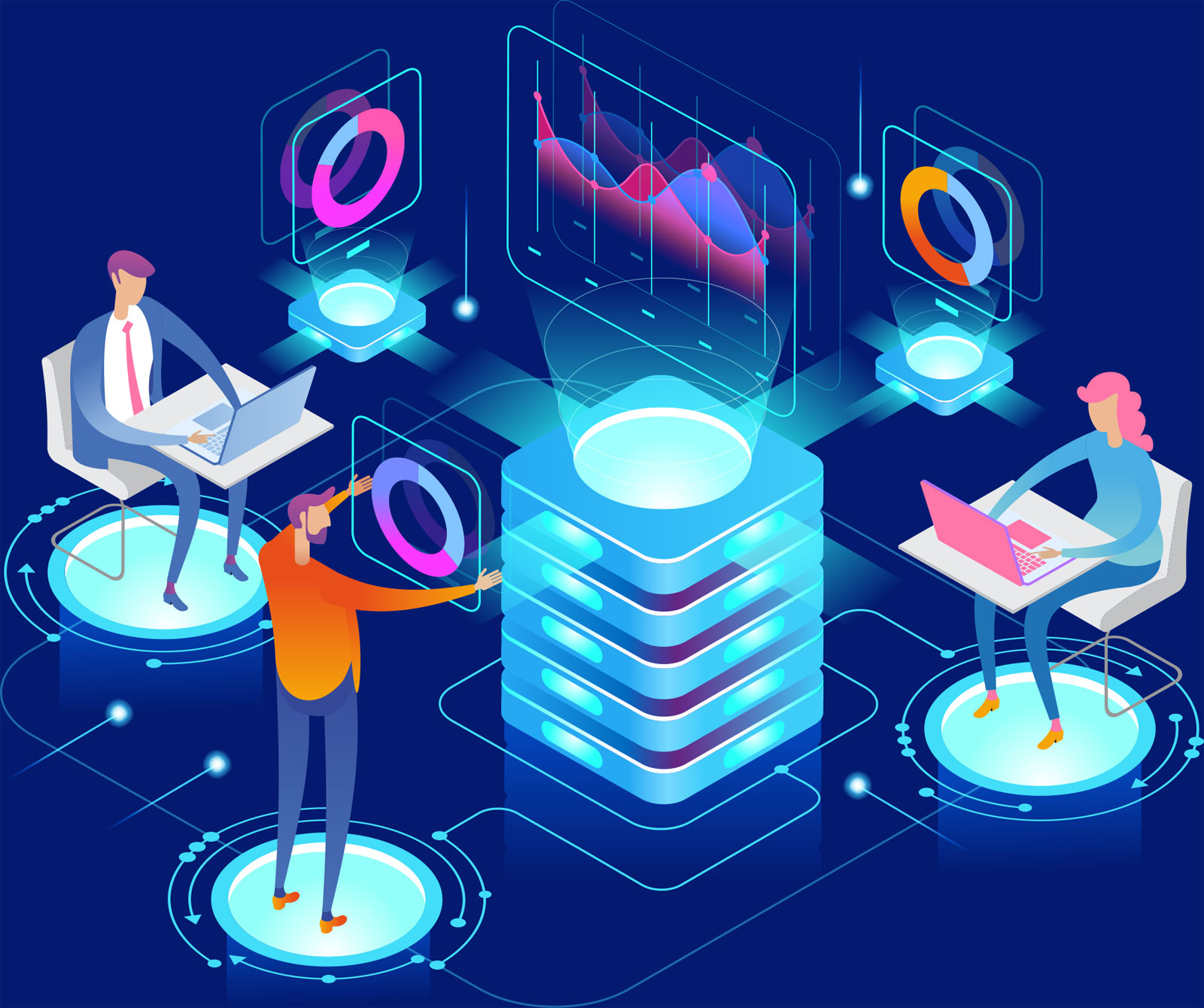 3 Components of Data CO-OP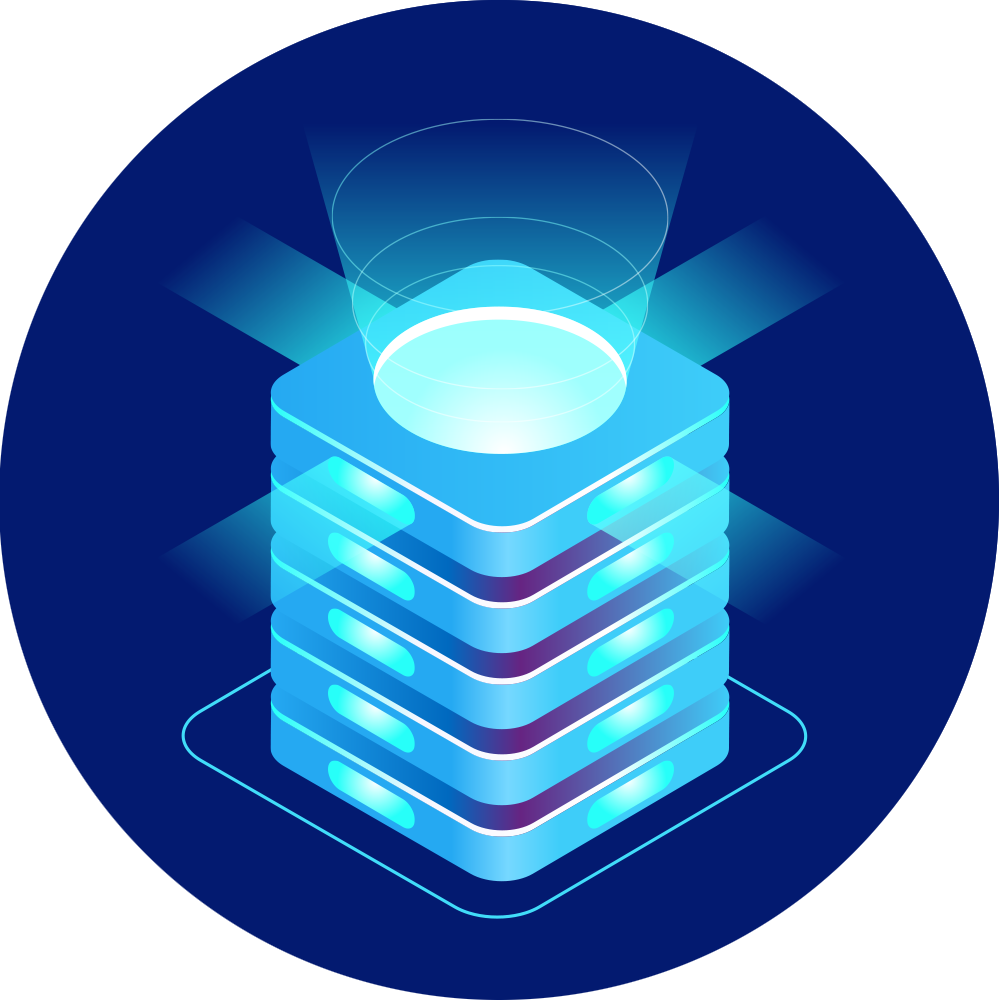 Public and private datasets from participating organisations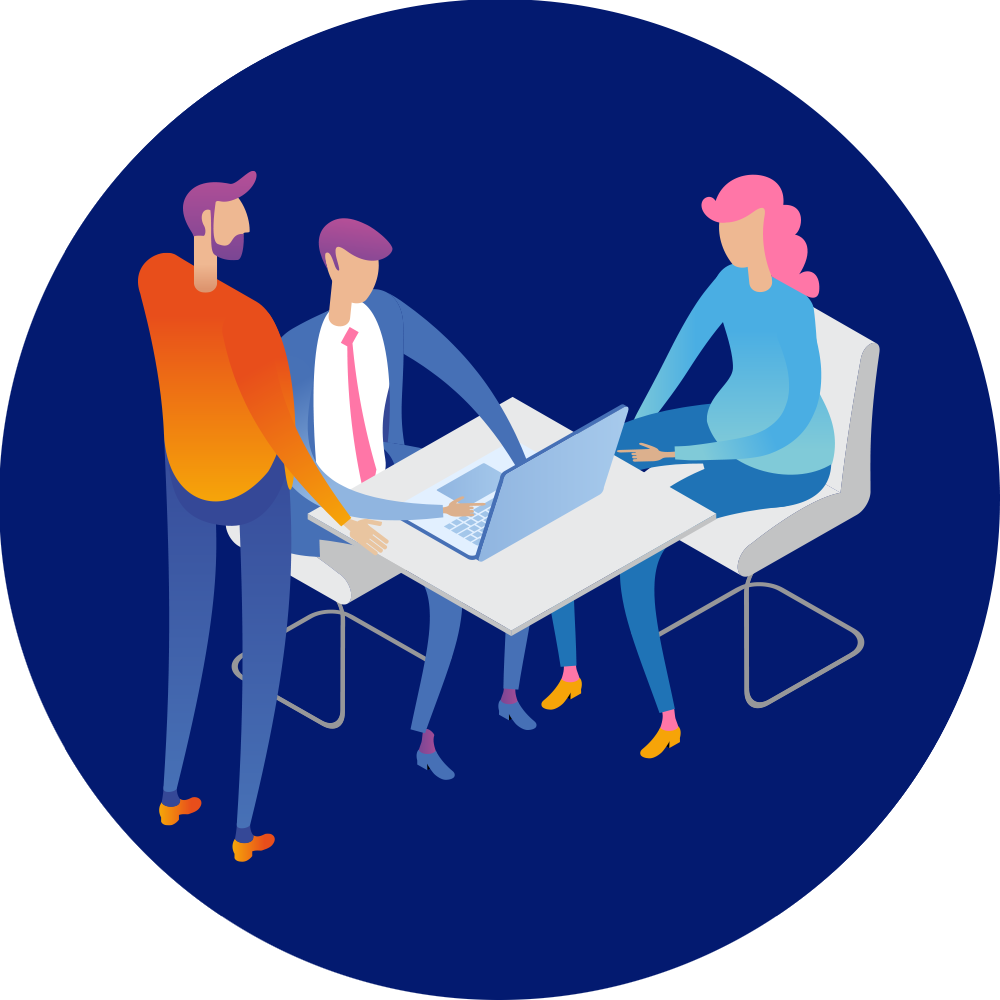 Domain experts, community leaders, data custodians, researchers, and data scientists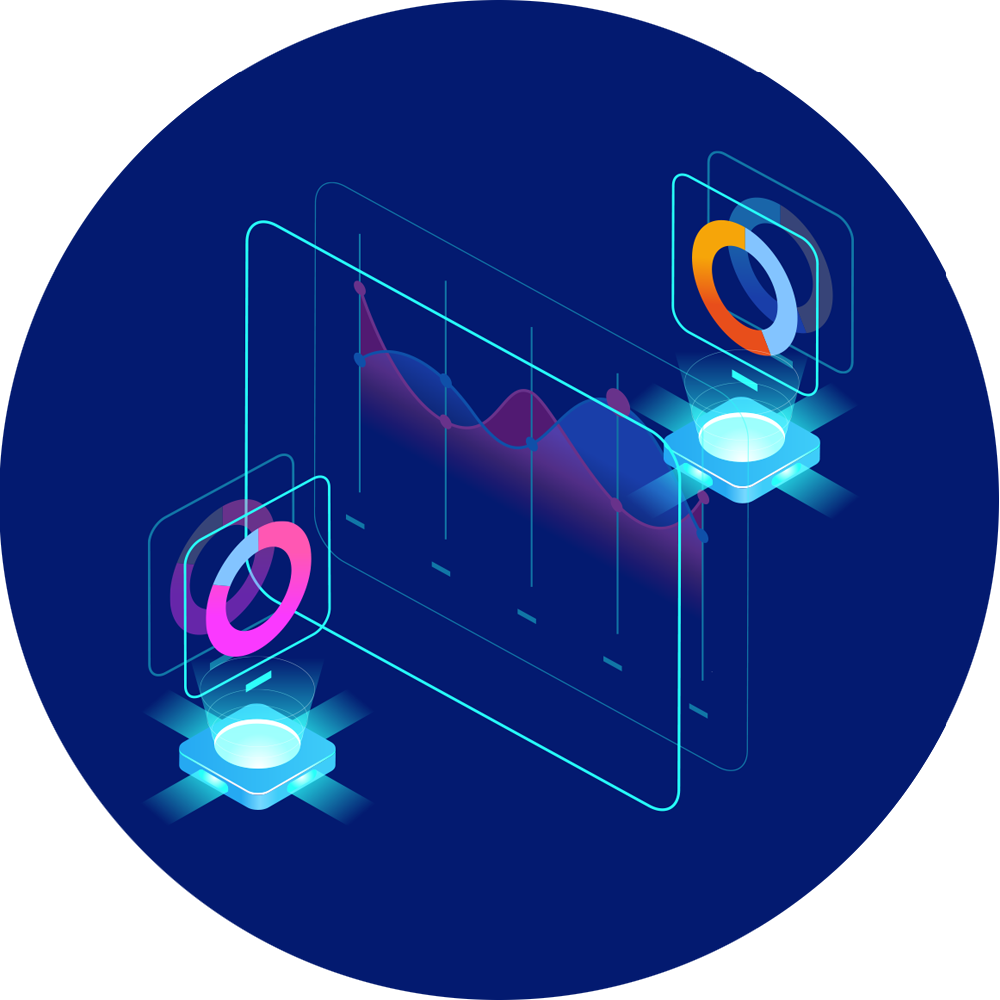 Software and hardware required for storage, computation and data analytics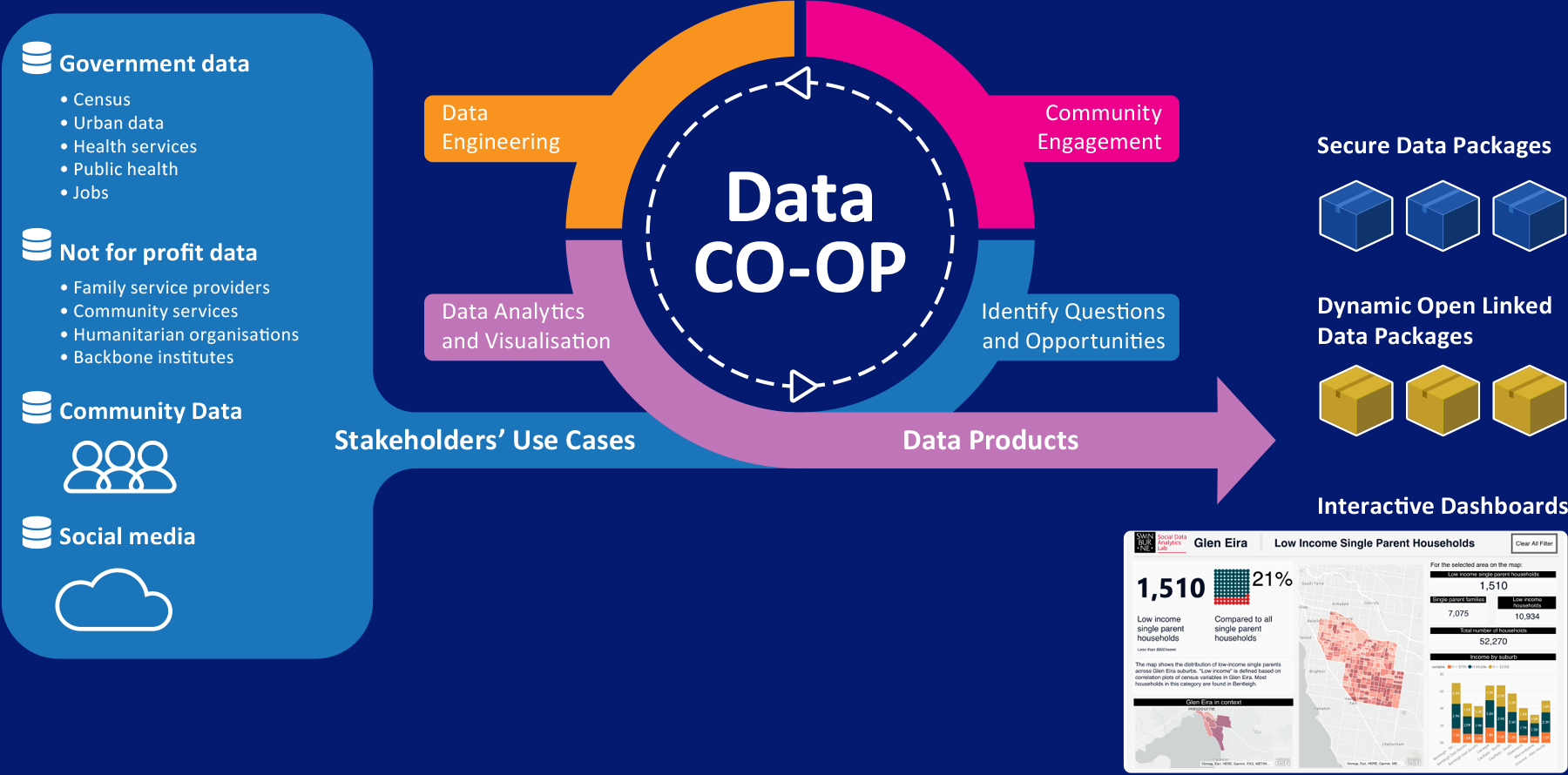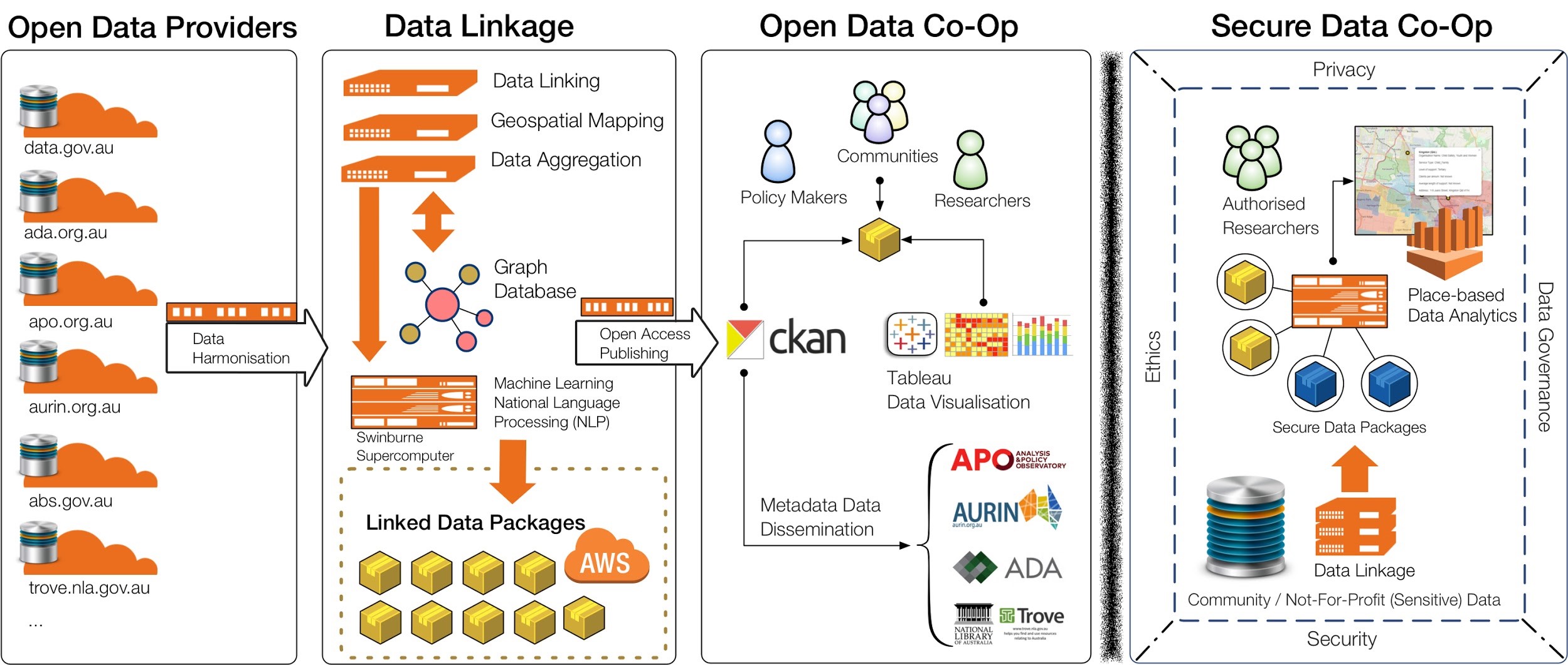 Data Providers
To enable this infrastructure, we leverage the extensive existing public investment in data platforms such as Australian Data Archive (ADA) and Analysis and Policy Observatory (APO); government data sources such as the ABS, AIHW, data.gov.au, data.vic.gov.au, and other open data sources.
Data Linkage
The project will transform currently disconnected open datasets into harmonised, connected and geospatially enabled linked data packages. These data packages will be aggregated from multiple underlying data sources, based on a connected graph of topics and subject taxonomies.
Open Data CO-OPs
A key advantage of the Data Co-Op Platform for Social Impact is generating social collective intelligence by bringing community sector organisations, policymakers and researchers together, utilising their data and know-how, for collective data-driven research and facilitating evidence-based policymaking.
Secure Data CO-OPs
Within the course of social science research, health and service provision, large amounts of diverse data are generated that are valuable for understanding social phenomena, and the interactions of variables that are associated with social outcomes. Much of these data are personal, sensitive, private or otherwise not suitable to be made publicly available. Aggregation or combining of data also needs to be handled in sensitive ways as de-identified data can combine to enable re-identification.
Associate Professor Amir Aryani
Head of Social Data Analytics (SoDA) Lab
Social Innovation Research Institute | Swinburne University of Technology
PO BOX 218, Hawthorn, Vic 3122 Australia
T: +61 3 9214 3378 | E: aaryani@swin.edu.au | Office: SPW021